The Aurea is a slim line floor standing loudspeaker. The sound attributes are similar to the Saria model although the Aurea is noticeably smaller in size.
The reduced cabinet size is better suited for most living rooms. The Aurea has been developed to achieve a dynamic and controlled bass performance without the need for strong amplification, as large power poweramps are again not suitable for all listening rooms in size and appearance.
Overall the Aurea will satisfy the most disconcerning audiophile listener, yet remain livingroom friendly.
"Weaknesses? We have not found any"
(Stereo, 12 / 2003, Matthias Böde)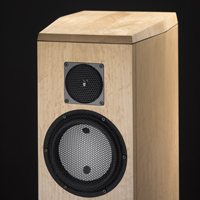 "I'd never thought  there would be Loudspeaker which I cannot fault, which fits my needs and wants to a T. How nice, I have been proved wrong!"
Copper Edition (Standard) 
The crossover components used are made of high purity oxygen free copper with a special crystal lattice structure.
Silver Edition
For the customer who wants the ultimate performance utilising high end materials, the copper crossover components are replaced with solid silver equivilents to achieve the last percentile in sound improvement. Please enquire about about prices and availability.
Diamant Hochtöner
The Aurea can be ordered with a 20mm Diamant tweeter instead of the Air Motion Transformer, maximising the speakers potential..   
| | |
| --- | --- |
|  Set up |  3 way, Bassreflex |
|  Drive units |  HF    AMT or 20mm Diamant |
|   |  MF   180mm ceramic membrane |
|   |  LF    2x 180mm ceramic membrane |
|  Sensitivity |  90 dB/W/m |
|  Frequency Response |  32 Hz bis 100 kHz |
|  Input Impedance |  6 Ohm |
|  Recommendet amp    |  from 20 Watt Class A |
|  Binding posts |  Solid Silver |
|  Dimensions |  width 260mm |
|   |  hight 1050mm |
|   |  depth 390mm |
|  Weight |  45kg per Speaker |