The design aim behind the Eta model was to produce a compact floor standing loudspeaker that was non critical in its placement within a living room environment.
The Eta can be placed close to walls due to its special Bass reflex design and is especially suited for small to medium size listening rooms.
Even the smallest speaker in the AudiaZ product range benefits from the uncompromising approach to material selection. There are no compromises.
The combination of a heavily braced multiplex cabinet, the best available crossover parts, a specially designed silver solid core Teflon cable and the best drivers available on the market have allowed AudiaZ to develop an entry level speaker with extraordinary sound capabilities. An exact soundstage with precision and tonal balance being the reward.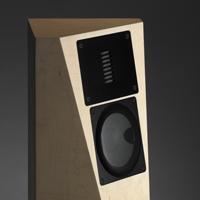 "The AudiaZ Eta projects a wide and exact soundstage, is easy to integrate into the living environment and is in another league to nearly all its competitors in regards to its detailed resolution and the ease of reproduction.
You get lost in the music, opening new dimensions."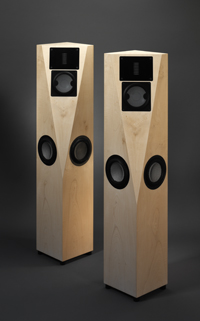 Copper Edition (Standard) 
The crossover components used are made of high purity oxygen free copper with a special crystal lattice structure.

Silver Edition
For the customer who wants the ultimate performance utilising high end materials, the copper crossover components are replaced with solid silver equivilents to achieve the last percentile in sound improvement. Please enquire about about prices and availability.
Diamant Hochtöner
The Eta can be ordered with a 20mm Diamant tweeter instead of the Air Motion Transformer, maximising the speakers potential.
| | |
| --- | --- |
| Set up |  3 way, Bassreflex |
| Drive units |  HF    AMT or 20mm Diamond |
|   |  MF   100mm ceramic membrane |
|   |  LF    2x 150mm ceramic membrane |
| Sensitivity |  89 dB/W/m |
| Frequency Response |  38 Hz bis 100 kHz |
| Input Impedance |  6 Ohm |
| Recommendet amp    |  from 25 Watt Class A |
| Binding posts |  Solid Silver |
| Dimensions |  width 210mm |
|   |  hight 1070mm |
|   |  depth 210mm |
| Weight |  22kg per speaker |