Cable
"Gore" the Teflon specialist company manufactures the planar cable exclusively for AudiaZ using expanded PTFE. The solid core wires are made of surface polished high purity silver.
The spacing between the conductors have been optimised in comparison with standard cables in order to reduce capacitance.
Overall induction is minimised by the cables parallel connection. Such factors produce a low loss cable design offering a broad bandwidth without highlighting a set frequency range.
The silver planar cable is the standard cable in all AudiaZ speakers with their "Silver-Edition", as AudiaZ refuses to compromise on their standards.
– The best dielectric: ePTFE
– The best conductor: high purity silver
Attributes
AudiaZ Silver wires have a generous wire diameter ensuring that all frequencies are well represented.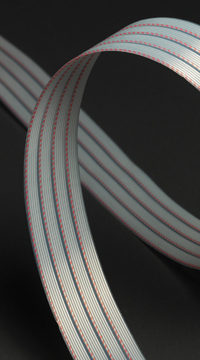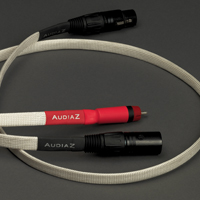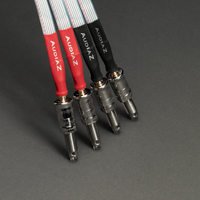 eTeflon

Teflon turns into a micro porous Material while retaining its strength when stretched under the right conditions. This expanded Teflon is an ideal dielectric due to its low loss attributes.
The unique porous structure contains a high degree of air, which results in low signal distortion.
Gore is the market leader in the application and manufacturing of ePTFE products.
Silver
Pure 6N silver is applied with a polished surface and converted in a thermoelectrical process to a more monocristalline form.
Available
The speaker cables are terminated with  high quality pure silver banana plugs or spades.
The XLR cables are terminated with Neutrik connectors.
RCA's use solid silver Eichmann Bullet plugs.
BNC cables are terminated with Oyaide plugs.
Power cables are connected with plug inlets from Oyaide within our own massive aluminium enclosure.
USB cables or HDMI cables are also available on special order.