The Opera is currently the largest floorstanding speaker in purist ETA design with larger bass drivers and larger midrange drivers from Accuton's cell line. This full-range speaker is suitable for medium to large rooms. Its independent design with the clear design language in the Bauhaus style blends harmoniously into a timeless living environment without imposing itself visually.
The best available material selection from the chassis used to the pure silver inner wiring to the exclusive switching components and the ultimate housing materials is the basis for the outstanding sound characteristics of the Opera.
Silver Edition
The components of the crossover consist of extremely high-quality mica capacitors and film capacitors from Duelund, Intertechnik, Mundorf and BMC.
The entire internal wiring from the pole terminals to the switch as well as to all chassis consists of solid pure silver conductors with GORE dielectric made of extruded Teflon.
Diamant Edition
For the highest demands, the tweeter has a 30mm diamond dome, the capacitor in front of the tweeter is made of solid pure silver foil with pure silver connections, the cables in the tweeter range consist of a silver-gold solid conductor.
Opera Grandezza 
In addition to the 30 mm diamond tweeter, the midrange diaphragm is also made of pure diamond. It is the world's largest diamond midrange driver with its 90 mm diaphragm made of pure industrial diamond, also from Accuton. AudiaZ is currently the only German manufacturer to use this state-of-the-art loudspeaker.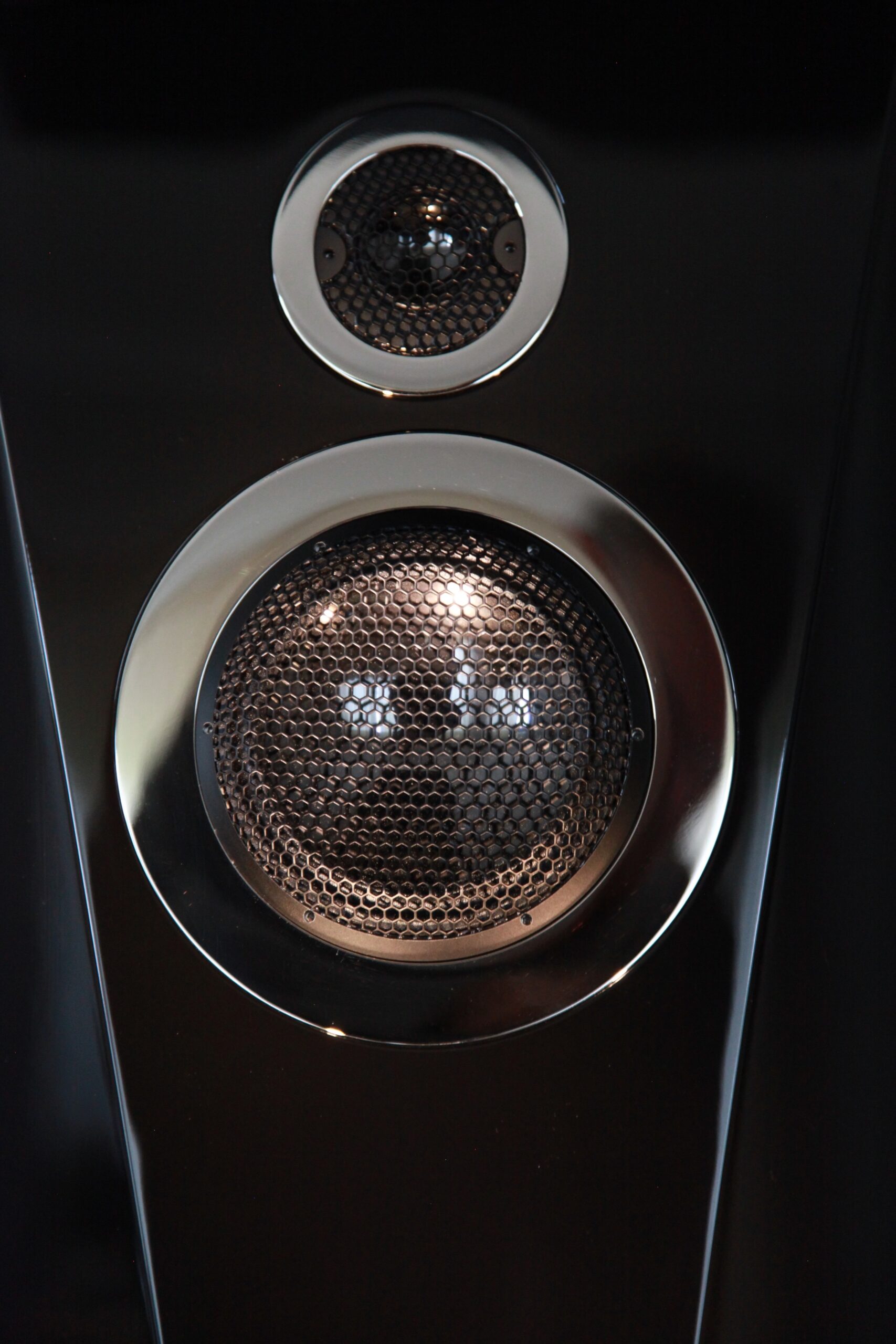 Specifications:
Principle
3 ways, bass reflex
Chassis
HT 30 mm ceramics or 30 mm diamond

MT 168 mm Ceramic membrane or 90 mm diamond

TT 2x 220 mm sandwich membrane
Efficiency
89,5 dB/W/m
Frequency response
22 Hz up to 40 kHz
Nominal impedance
6 Ohm
Power amplifier power
From 50 watts Class A
Connections
WBT pole terminals 0702 or optional 0710Ag
Dimensions
Width 284mm

Height 1257 mm

Depth 284 mm
Weight
56 kg
Executions
pearlgloss black, pearlgloss white,
golden ebony highgloss

M-Edition: silveredition with 30mm diamond and highgloss ebony, black terminal with WBT 0702

Opera Grandezza with 30 mm diamond tweeters and with 90 mm diamond midrange drivers