Aim
The AudiaZ Saria Loudspeaker is executed with the best materials available
Cabinet
Special attention was given to the cabinet design to reduce resonance while applying minimal damping to ensure fast dynamic responses. This has been achieved through a new kind of Duplex bass chamber which reduces wave reflection (standing waves).
Sound
The Saria excels through a large scale soundstage with high precision, while keeping a neutral tonal balance.
"…ein traumhaftes und stets begeisterndes Klangerlebnis. Äußerst lebendig, völlig schwerelos und selbstverständlich präsentiert sie jegliche Art von Musik in ihrer naturreinen und unverfälschten Form.
Audiaz bietet dem kompromisslosen Musikliebhaber einen Lautsprecher auf Weltklasse-Niveau."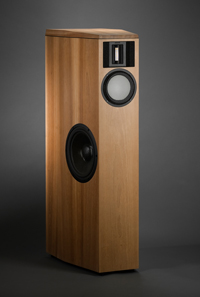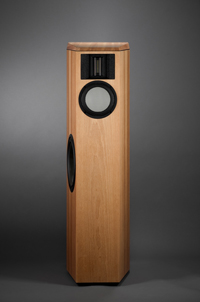 Copper Edition (Standard) 
The crossover components used are made of high purity oxygen free copper with a special crystal lattice structure.
Silver Edition
For the customer who wants the ultimate performance utilising high end materials, the copper crossover components are replaced with solid silver equivilents to achieve the last percentile in sound improvement. Please enquire about about prices and availability.  
Diamant Hochtöner
 The Saria can be ordered with a 20mm Diamant tweeter instead of the Air Motion Transformer, maximising the speakers potential.
| | |
| --- | --- |
| Set up |  3 way, Bassreflex |
| Drive units |  HF    Ribbon Tweeter |
|   |  MF   180mm ceramic membrane |
|   |  LF    280mm Nomex – Kevlar  |
| Sensitivity |  89 dB/W/m |
| Frequency Response |  28 Hz bis 100 kHz |
| Input Impedance |  8 Ohm |
| Recommendet amp    |  from 15 Watt Class A |
| Binding posts |  4mm Solid Silver |
| Dimensions |  width 310mm |
|   |  hight 1130mm |
|   |  depth 540mm |
| Weight |  85kg per Speaker |